About Us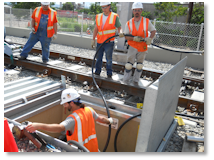 Smittick Electric, LLC is a full service electrical contractor serving the greater Denver Metro Area. We specialize in transportation, commercial,educational facilities, and service/maintenance work.
For more than 15 years in the industry, Smittick Electric consistently rates high in customer satisfaction. This is due to our high standard of qualityservice, highly skilled workforce providing greater accountability, and building long lasting customer relationships.
The secret to our success isn't just hard work and a dependable team. We provide top-of-the line service with professionalism, respect and a mission to make our clients our number one priority. The ability to provide superior electrical services with competitive pricing distinguishes Smittick Electric from other companies. Our company combines modern electrical techniques and advances with an old-fashioned commitment to service.
Smittick Electric's precise oversight and skilled management has proven to be essential to successful projects. Our growth over the past decade has been built with honest customer service and an expanding group of loyal clientele. We pride ourselves on building customer relationships to make working with us easy, efficient, and enjoyable.
Smittick Electric Mission: In our unrelenting task to continually master customer satisfaction, we will staff the Best Electricians, using the Best Tools to install the Best Equipment Safely, on time and under budget.
To exceed the expectations of our business partners through:
Quality Installations
Educated Employees
Committed Management
Safe Work Environment
Responsibility to our Community
Our Vision is to nurture an ethical environment that promotes value for our clients, stability and safety for our employees and profitability in our business.
In November 2012, Smittick Electric, LLC received the RTD spotlight award given for excellence in transportation construction.
Please CLICK HERE to read our Capability Statement.